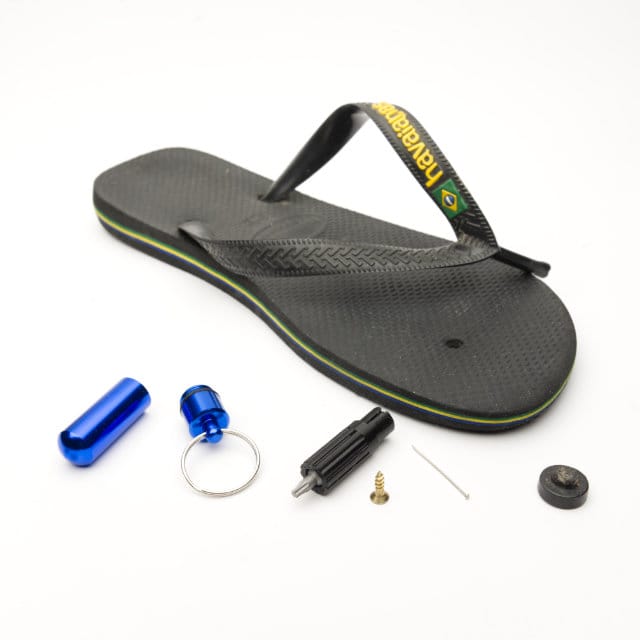 Flip Flop Fix
Repair on the go.
#repairkit
Includes:
waterproof alu capsule
keyring
screw driver bit
2 screws
needle
plastic inlay
15 EUR
incl. VAT and shipping to Germany or Austria.
Write an email if you are from another country.
Out and about and the darn sandal broke again?

With this flip flop fix kit you can repair your Havaianas on the go.
When I had to walk barefoot through the jungle I wanted something to fix my shoes.
Frequently Asked Questions
That's almost the price of new pair! Isn't that a little expensive?
You could just buy a new pair - but will you have that pair available the exact moment your shoe breaks?
Up until now I am only doing small batches. All work is manually and labour isn't cheap over here.
The tool should last a long time - if not a life time.
Repairing gives your flip flops a 2nd life, which is better for the environment.
How many repairs does it last?
The current version only holds a single screw. So it lasts for a single repair and then needs to be refilled. The kit comes with 2 screws in total. In theory you can even re-use the screws. For the tool itself, there is no good reason it shouldn't last a life time. During testing I've done many repairs with it - probably more than the number of flip flops you will ever own.
Got more questions? Write an email.